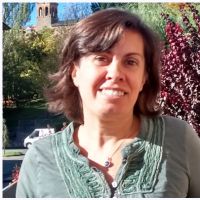 Conversaciones en Español por Skype de los temas que tú quieras y además aprendes gramática. Las conversaciones son muy importantes para aprender a comunicarte. Aunque estés lejos, a través de Skype yo te puedo enseñar Español de manera fácil, rápida y divertida.
Conversations in Spanish by Skype of the subjects you like and this way you also learn grammar. The conversations are very important to learn how to communicate. No matter how far you are, using Skype I can teach you Spanish in a funny and easy way.
+ More
The conversations I offer are great in order to be able to learn how to communicate in Spanish. We all learn a language with a lot of grammar but do not know how to express ourselves because that is the hard part of a language. With these conversations you will be able to express in Spanish and learn expresions. You can choose the subject or you can tell me to choose one for each class. All the conversations will be accompanied with grammar, vocabulary and expressions.

Trial Class 50% Off!