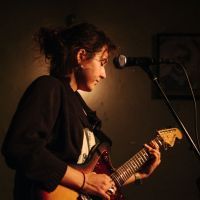 Teacher: Valerija Kravale (Berlin)
Ich biete Gitarrenunterricht in Englisch, Russisch oder Lettische sprache.
Es ist 60 minuten lang und gelegen in Kreuzberg, Berlin.
I offer Guitar lessons in English, Russian and Latvian language in Berlin, Kreuzberg.
A lesson is 60 minutes long and includes all materials.
Starting age is 7 y.o., the program covers notes learning in basic level, popular songs (for example, Harry Potter theme) and more advanced songs later on.
Я предлагаю уроки гитары на английском, русском и латышском языках.
Урок длится 60 минут и включает все материалы.
Начальный возраст 7 лет, в программе - ноты и их чтение, популярные песни (например, тема из Гарри Поттера), и более сложные песни после базы.
+ More
It's always depending on the student and their age and their music taste.
We listen to music, not just mechanically play it over. I teach my students how to like what they do, not just play the songs from the paper in front of them.