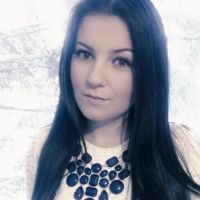 Country of origin: Greece
Mother language: English : English
Spoken languages: English, French, Spanish
About the teacher
My name is Eleftheria and I studied translation at Concordia University. It will be my pleasure to help you learn English.
I moved to Canada when i was 13 years old and i know what is like to learn a new language. I love languages and I have been teaching for the past 11 years. I have taught all ages. I teach private and corporate classes. I love traveling and learning about new cultures. Feel free to contact me at your convenience with all your English language needs.With my experience, I can help you prepare presentations, e-mails, and learn the art of business networking.
Qualifications
Translation (Minor in German), Concordia University, 2015
TESL, 2018
Experience
I teach Greek, English and French in Montreal/ Laval/ West Island and South Shore.
I have been helping students with school work and I have been teaching corporate classes.
I am also a Dance/Fitness Instructor. I love teaching!
Other teachers: