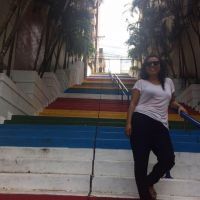 Teacher: Carolina Gomez (Berlin)
(Teacher originally from Cali, Colombia)
Aprende español a través de situaciones comunicativas en las que comprendes cómo la cultura y el comportamiento social caracterizan el lenguaje. El lenguaje es una habilidad humana y los idiomas reflejan características culturales y contextuales específicas, en un código común.
Learn Spanish through communicative situations in which you realize how culture and social behavior typify languages. Language is a natural human skill. Languages are the specific cultural and contextual features reflected on a common code. Learning spanish is easier when you acknowledged the contex
Imparare lo spagnolo è più facile quando si riconoscere il contesto attraverso situazioni comunicative in cui si vede come la cultura e il comportamento sociale caratterizzano le lingue. Il linguaggio è naturale abilità umana.
+ More
Focus on spontaneous conversation, we analize and understand language use and its form. Using online resources and interactive materials for the lessons, we build the most suitable class. Listening, writing, speaking will be comprehensive in lessons with communicative and intercultural approaches.

Trial Class 75% Off!